Jun 22, 2011
If you're looking for a great headset but don't have the luxury to own a great sound card and a pair of expensive headphones, then I strongly recommend the Logitech G35 headset. It is USB powered, meaning that it bypasses the sound card and does the processing on the onboard sound chip which is great for laptops or desktops that don't have dedicated sound cards. The G35 offers very cool tech such as G keys on the headset that are programmable to do things such as open iTunes, skip to the next song, pause/play, or whatever else you'd like them to do. It even has a volume knob on the left earpiece to change your volume on the fly.
The headset is very comfortable to wear, even for countless hours of gaming or heavy usage. Even though the headset is aimed towards gamers with its rugged look and the Logitech made G-Keys, it is still a great headset for travelers. It provides noise reduction and the mic is noise cancelling as well. I can vouch for this headset with the fact that you cannot really hear anything outside of your head once you start playing music, movies, or games through it.
The best part of this headset is obviously the capability to emulate surround sound, and yes I do emphasize the emulate part. The headset uses software to emulate the experience of having 7 speakers around you, but it does a wonderful job nonetheless. You can hear footsteps behind you, or explosions all around you with massive bass and great treble. The G35 provides a great experience to anybody looking for a surround sound headset. The software picture underneath this paragraph is what comes with the G35. It allows you to enable/disable surround sound, change volume,bass,treble, and voice transmitting volumes, as well as morphing of the voice.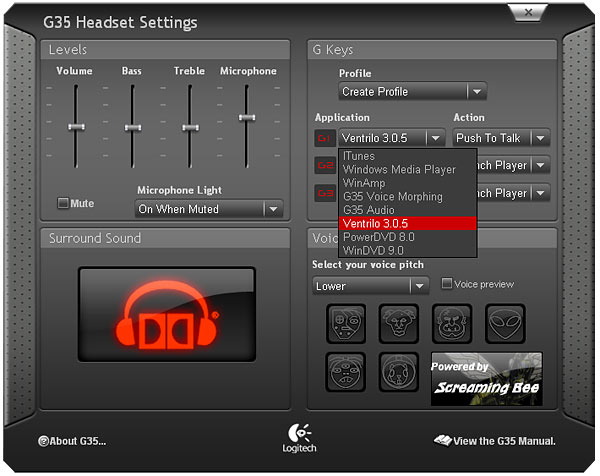 On top of the great 7.1 experience, comes the clarity of the microphone. Clarity is important when voice chatting, gaming, or conference calling and the Logitech G35 headset definitely provides a great microphone. It is very adjustable and even has a red LED on it to indicate when it is muted. People have constantly told me they can hear me very clearly, even though I can hardly hear myself talking due to the noise cancelling headphones.
In conclusion, this headset is definitely worth the price. It retails in stores for about $130, but can be found on online retailers or auction sites such as eBay for much less. I recommend this headset to anybody that wants to enjoy great sound without having to buy a dedicated sound card first.
8.5/10
computer fix in Schaumburg, computer fixes in Schaumburg, computer repair companies in Schaumburg, computer repair company in Schaumburg,computer repair in Schaumburg,Computer Repair Schaumburg, computer repair service in Schaumburg, computer repairs in schaumburg, Computer Repairs Schaumburg, computer service in Schaumburg, computer services in Schaumburg, computer services Schaumburg, computers repair in Schaumburg, computers repair Schaumburg, data backup Schaumburg,data backups Schaumburg, data recovery Schaumburg, data recovery service Schaumburg, data service in Schaumburg, diagnostic testing in Schaumburg, IT Support Schaumburg, IT support service in Schaumburg, IT support service Schaumburg, laptop repair in Schaumburg, Laptop Repair Schaumburg, laptop repair service in Schaumburg, laptop repair services Schaumburg, laptop repairs in Schaumburg, laptop service in Schaumburg, lcd screen repair in Schaumburg, lcd screen replacement in Schaumburg, lcd screen replacements in Schaumburg, motherboard help Schaumburg, motherboard repair company in Schaumburg, Motherboard Repair Schaumburg, motherboard repair service in Schaumburg, motherboard repair tools Schaumburg, motherboard repairs in Schaumburg, motherboard replacement in Schaumburg,motherboard service in Schaumburg,Schaumburg computer fixes, Schaumburg computer repairs, Schaumburg data backup, Schaumburg data recovery,Schaumburg data recovery service,Schaumburg IT Support, Schaumburg IT support service, Schaumburg spyware removals, Schaumburg virus removal,Schaumburg virus removals, screen repair in Schaumburg, screen repairs in Schaumburg, screen replacement in Schaumburg, screen replacement Schaumburg, spyware removal Schaumburg, spyware removals Schaumburg, virus removal schaumburg,virus removals Schaumburg